Greek Lemon Chicken Skewers with Tzatziki Sauce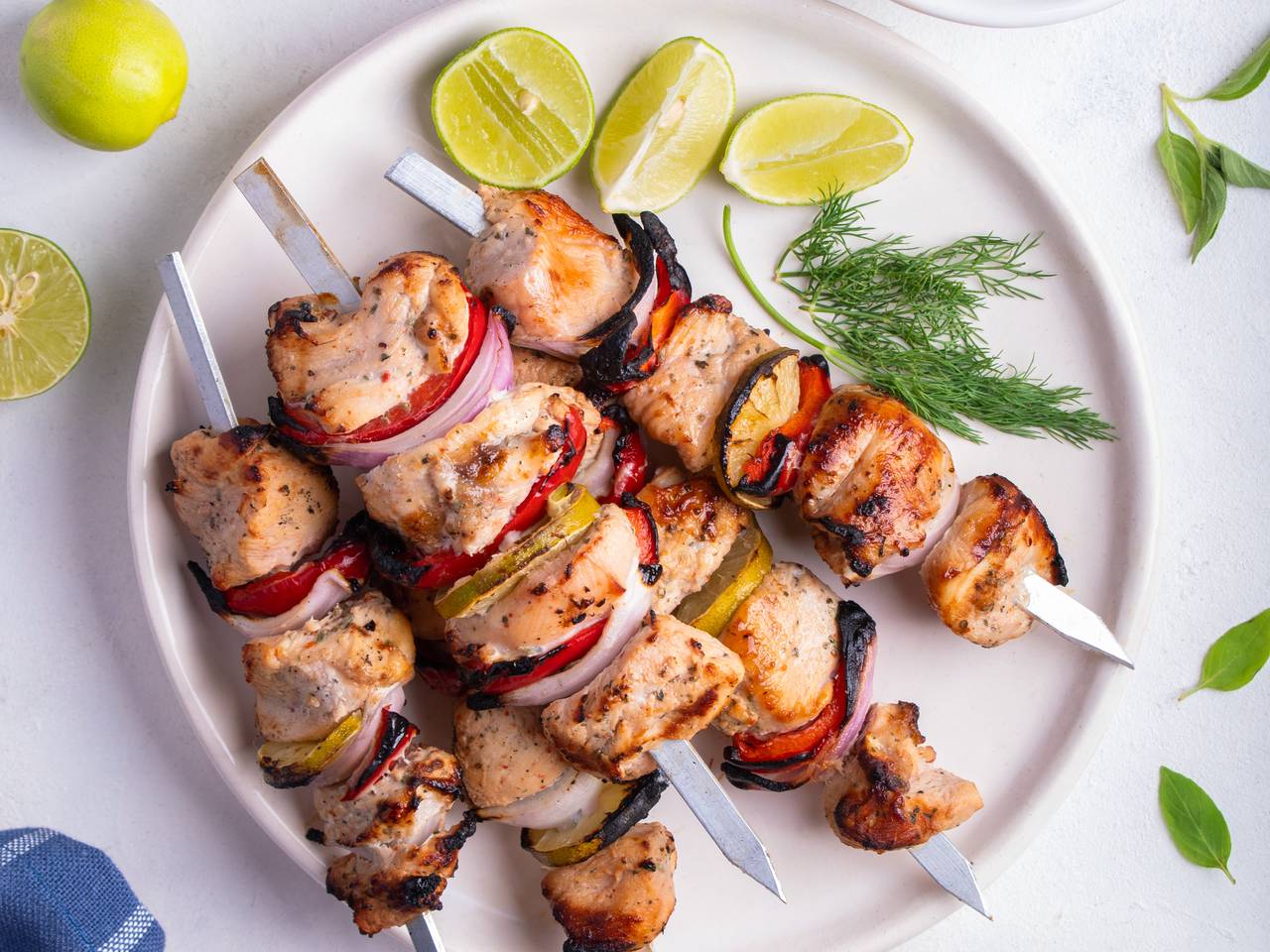 This is a wonderful dish that is marinated with lemon and served with Greek tzatziki sauce with cucumbers and dill leaves. It smells wonderful and is one of the best choices for a holiday lunch.
Ingredients
1 large
sweet peppers, red
1 teaspoon
rosemary leaves
2 teaspoons
ground black pepper
1 teaspoon
ground paprika
100 grams
fresh or dried dill leaves
Instructions:
1

Wash the chicken breasts and cut them into medium size cubes. Cut inside of the cubes with a knife one inch deep, this way the sauce will penetrate the chickens and marinate them better.
2

Chop a big onion into large pieces and mix it with the chicken.
3

Add salt, pepper, pennyroyal, and garlic powder to your chicken. Add two tablespoons of olive oil as well.
4

Juice 7 to 8 fresh lemons and add them to the chickens. Mix them perfectly so the chicken is soaked in lemon juice. Let them rest in the fridge for one hour to be marinated.
5

Wash the cucumbers and grate them or cut them into small cubes and mix with the yogurt in a bowl. Wash the parsley or dill leaves, drain and mince them.
6

Add the parsley and dill leaves, black pepper, salt, some fresh lemon juice, and garlic powder to the yogurt and mix well.
7

Cut the sweet red peppers, onions, and lemons to a proper size. Take the marinated chicken out of the fridge after one hour. Skewer the sweet peppers, onions, and chickens.
8

Cook in the grill at medium heat. Grill each side for 5 to 7 minutes. Take the chicken off the grill and drop some fresh lemon juice on it. Serve it with the tzatziki sauce.
Reviews (0)
Tips and tricks
A delicious grilled chicken is juicy, not dry. To prevent them from becoming dry, you shouldn't remove the skin. The chicken will cook with its oil and becomes juicy and delicious.
To make the grilled chicken it is better to use all of the chicken parts to make it taste better, especially breast and legs are the best choices.
Background & History
The love for the grilled chicken has deep roots in our family and our favorite gathering dish is mostly grilled chicken. My mom used to marinate the chickens the night before to make the chickens juicy and delicious. Anyone will fall in love with this grilled chicken recipe.
Nutrition Facts
(per serving)