Ash Reshteh – Amazing Persian Legume Soup Recipe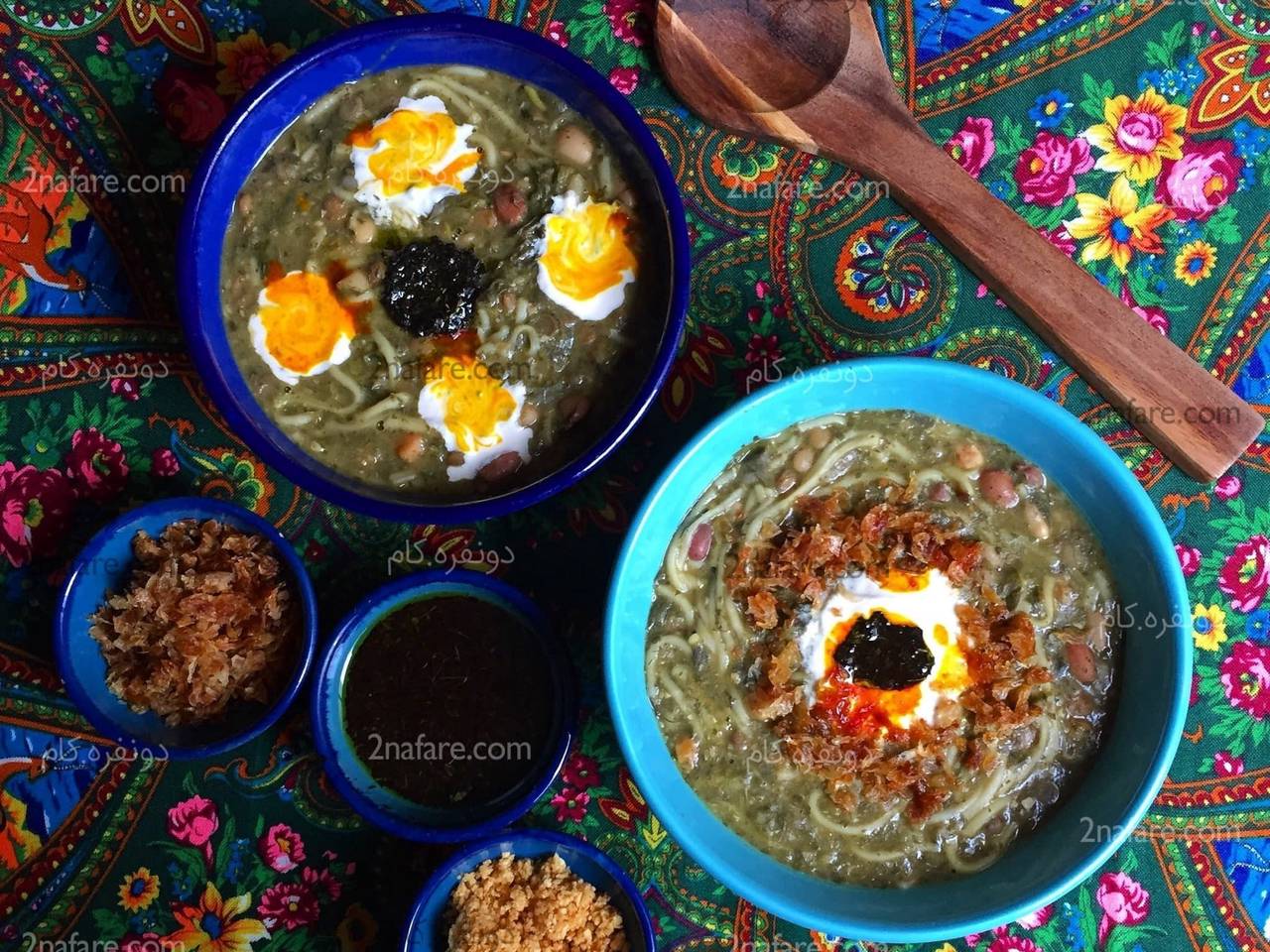 Ash Reshteh is one of the Iranian thick soups with thin noodles called " reshteh" and kashk something close to dried yogurt. Ash Reshteh is one of the well-known and relishable Iranian ash. I guess in every Persian family they have some memories of eating ash reshteh together. There is a lot of points and tricks for cooking this ash and you may have experienced eating this ash with different types of flavors! The variety of these flavors depends on the Amount and type of the vegetables. On this page, I put the recipe for this genuine Iranian ash and important tricks for cooking it better. Hope you find it useful!
Ingredients
500 gram
chopped vegetables including leek,parsley and coriander
300 gram
special reshteh ( thin noodles)
Instructions:
1

put frijoles that we already soaked in the pot( except lentils) with water and a little part of fried onion and hot garlic on the heat.
2

After about 2 hours that frijoles got ready, we add vegetables and lentils in it and take our time for 1 hour later.
3

Chop the reshteh and add it to the pot. we stir it good and put the pot's door and allow the reshteh to be baked. We can add the rest fried onions and hot garlic in the ash or keep it just for designing.
4

After 45 minutes ash has been baked well and we can serve it with kashk, fried onion, and hot mint.
Reviews (0)
Tips and tricks
It's better to soak the frijole before using it. By doing this, special enzymes in frijole will be free so they will be cooked faster and easy to eat. And in the skin of beans, there are some complicated compounds of sugar that will be broken by soaking.
For making our ash tastier, while you're baking the frijoles, add some hot mint and fried onion to it.
we all know that fresh vegetables will have better tastes. green vegetables are one of the main parts of the most ashes. And every ash has its own special type of vegetables.
For making our ash delicious, we should be careful and notice the number of vegetables we need based on the recipe. And if we use fresh vegetables, our ash would be tastier. vegetables we need for ash reshteh including leek, parsley, coriander, and spinach which I suggest using spinach more than others in big sizes. You can chop spinach-like others in smaller parts but in case you chop them bigger, your ash will look more attractive and delicious cause you can clearly recognize the flavor of spinach in your mouth.
Always try to prepare fresh vegetables and eat them. But sometimes this can't happen and you should prepare the vegetables in advance. If you want to freeze the vegetables, after washing, drying and chopping, package them based on your need. For packaging, put them in plastic and widen them then freeze.
There is a lot of types of reshteh for ash in bazaars. Some of them are larger and take a lot of bulk of our ash and some of them won't. But the point is reshteh will make our ash tasty. when you add reshteh in the ash, make sure you stir all of it we do this to spread the reshteh all over the pot and don't stick together while cooking. We put the pot's door at a normal temperature and sometimes stir the ash. Ash's reshteh would bake about 20 minutes but just for making sure our ash baked well, we put our ash about 40_50 minutes on the gas.
Pasteurized kashk doesn't need boiling. So you can add them into the ash but for designing, it's better to be mixed with water and boil. Kashk that we use for designing, shouldn't be watery. And for making it look beautiful, you can mix saffron and kashk or mix kashk with hot mint's oil so that it would have color and look more pretty.
Lots of people use hot mint with ash's vegetables and others chop and fry fresh mint on the ash. But the easier way to do is to saute the spearmint with oil. For doing this, we pour oil into the pot and allow it to get hot. then add all the spearmint into the pot and stir the pot for about 5_10 seconds and take them away from the heat. Notice that if you put them in the heat longer, it would burn and taste bitter and you would feel the smell of burning in your ash.
the water of ash shouldn't below when we add reshteh cause reshteh absorbs water. After adding reshteh, stir the pot sometimes. so it won't in the bottom of the pot. The more fried onion, the delicious our ash tastes!
Nutrition Facts
(per serving)