Warm Indian Garlic Naan With Pan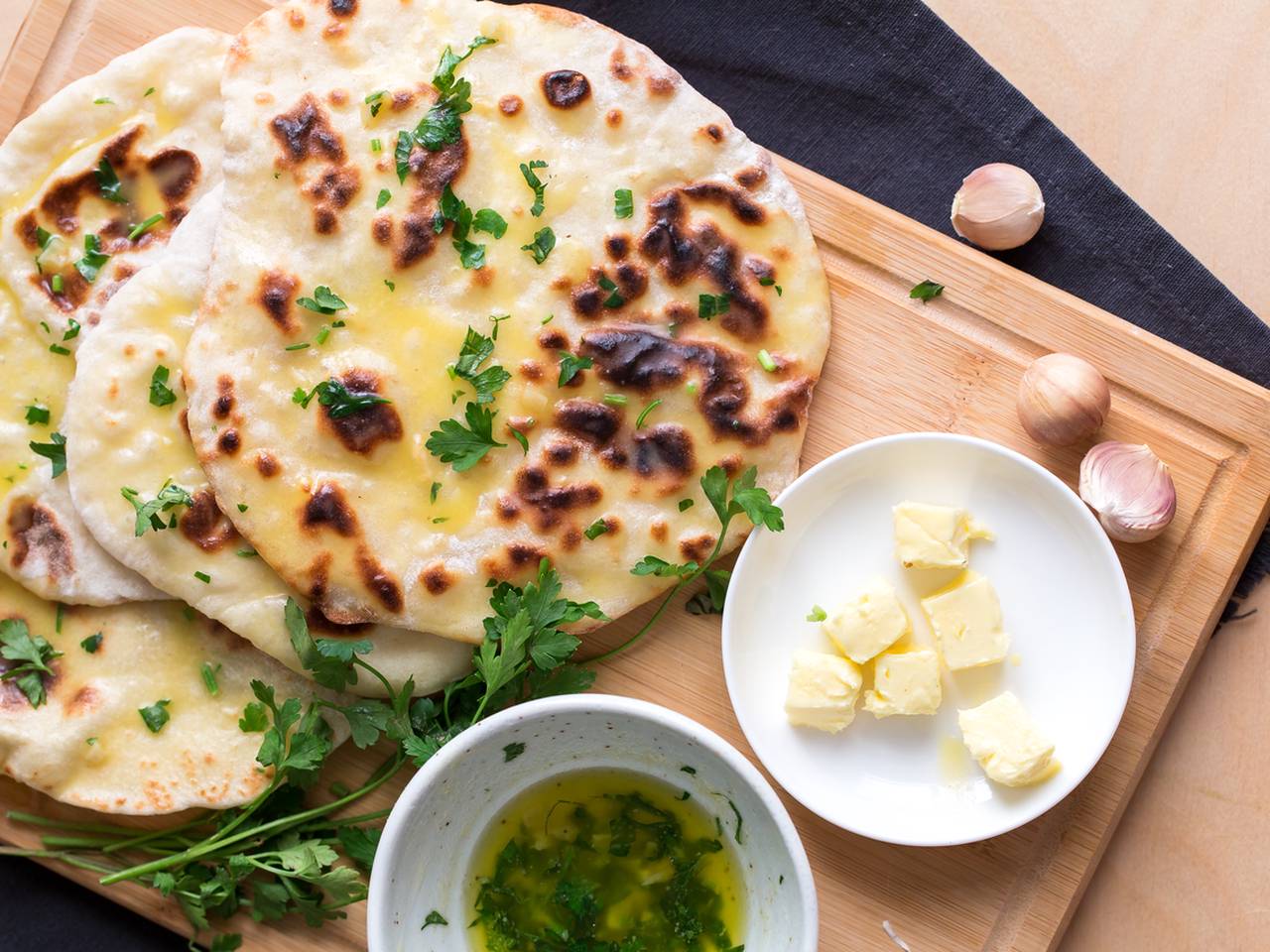 Making your own bread is one of those things that sounds harder than it actually is. I'm going to debunk that myth for you by showing a bread recipe that is not only easy to make but also tastes amazing and will spread a pleasant smell of warmth and coziness in your house. It's definitely worth a try!
Ingredients
0.5 Cup
Fresh well chopped-parsley
Instructions:
1

Measure all ingredients and leave them by your side. Firstly, chop parsley and garlic into tiny pieces.
2

Mix yeast, water, and sugar together and let it stand still for 10 minutes until bubbles form on the surface.
3

When the yeast started to bubble up, pour flour into a bowl and add yeast, yogurt, olive oil, and milk to it.
4

Stir all the ingredients until they become smooth, then knead for about 4-5 minutes.
5

Place the dough into a lidded container and leave it alone at room temperature for about 1 hour to rest. After an hour, divide the dough into 12 pieces. Spread flour over your table and start flattening each dough piece using a rolling pin.
6

Heat the non-stick pan and place the dough inside it. When it starts to bubble and as the bubbles seem to be getting larger, flip the dough to its other side.
7

Melt butter and add garlic to it. Take the cooked side of the bread and grease it with this mix. Repeat when the other side of the bread cooks as well.
8

After greasing the naans with butter, spread parsley over them and enjoy while they are fresh and warm.
Reviews (0)
Tips and tricks
Your pan doesn't need to be oiled. After placing the dough onto your pan, keep the heat at medium temperature.
Each bread requires 1-2 minutes to bake.
Background & History
Bread is a special food necessity all over the world and each culture treats it differently. This tasty Indian Naan is one of the most delicious, loved, and well-known bread in the world. You can make this alongside various Indian stews or with any other dish that you like. It would still be tasty on its own too.
Nutrition Facts
(per serving)