Chicken and Mushroom Crepe Recipe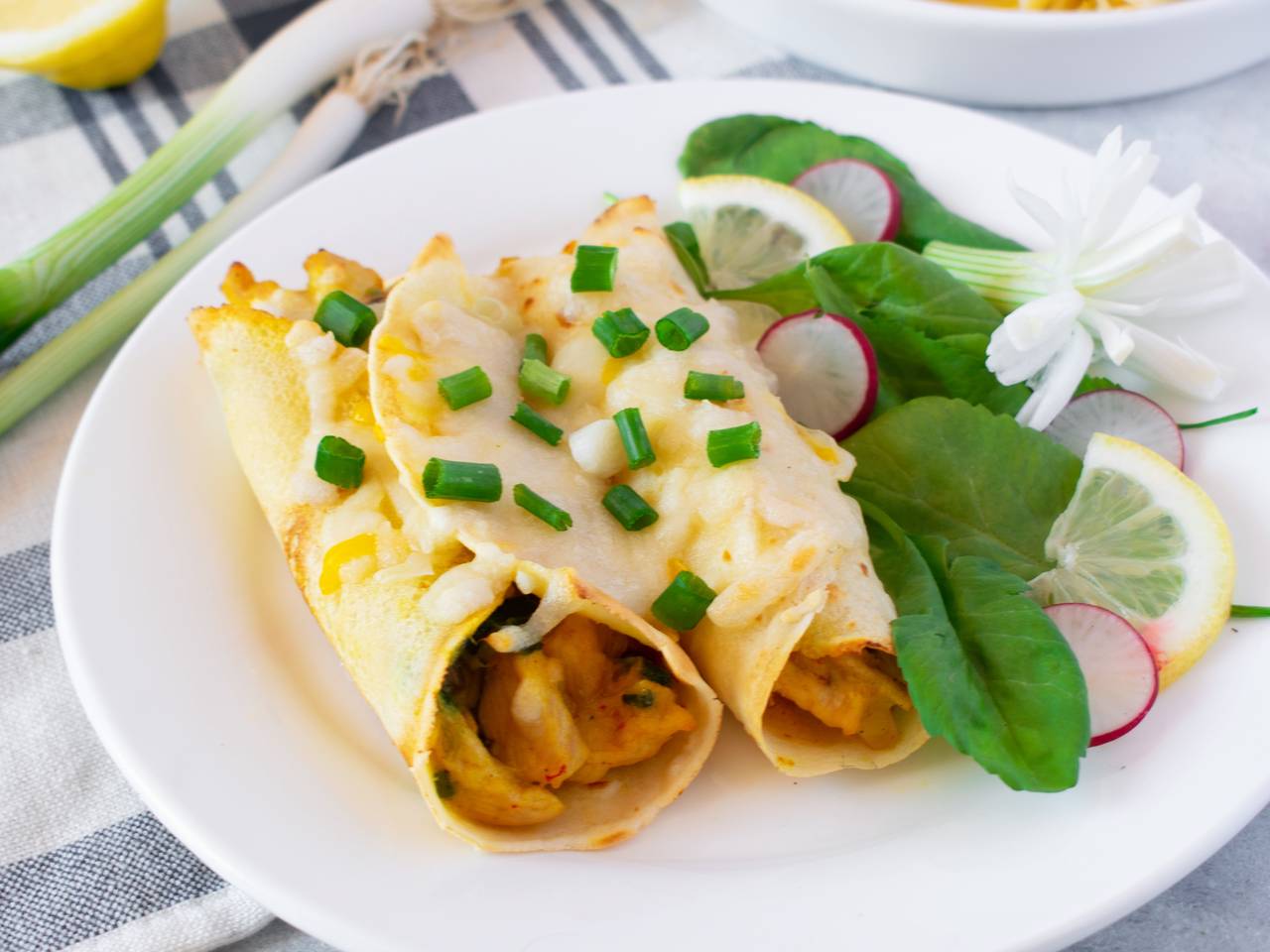 Most people have crepes as a sweet dessert but today I teach you a recipe that you can have crepes for a nice meal with mushrooms and chicken. You can easily roll them in your crepe and enjoy them.
Ingredients
2 tablespoons
spring onions
0.5 cup
mozzarella cheese
Instructions:
1

Beat the egg in a large bowl until it's combined well and full of bobbles.
2

Add one cup of milk to the egg and mix them.
3

Sift flour and add it to the batter slowly and whisk until they are combined well. Add 2 tablespoons of melted butter or vegetable oil and mix them as well.
4

You need to use a nonstick pan to make the crepes. Put the pan on the heat. Grease it with an oily cloth or a brush. Take one ladle of the batter and pour it inside the pan. If your pan is too big, you have to pour 2 or 3 ladles in it. Move the pan until the batter covers all of it. When the crepe holds its shape and its edges are raised a little, turn the crepe by a thin fish slice. It takes less time for the other side to be fried as well. Your crepe is ready now. It only takes 2 minutes for each one to be made. prepare all the crepes this way.
5

After making our crepes we need to prepare the filling. chop the onions and fry them in a pan. Then add the chopped spring onions and grated garlic to the onions and fry them.
6

Cut the chicken into small cubes and add them to the onions and fry them until their color changes and it loses its water. Add mushrooms and chopped bell pepper to your pan and wait until the mushrooms lose all their water. Now you need to make the white sauce.
7

Melt two tablespoons of butter in a pan and add one tablespoon of flour to it and fry it a little, Then slowly add one cup of milk and stir until it becomes thick.
8

Now add the sauce to the chickens and wait until they come to boil, then turn off the heat.
9

Open the crepes and put the fillings in the middle of the crepes. sprinkle some cheese on top of them and roll them. Turn on the oven at 180C and wait 10 minutes to heat. Then put the crepes in the middle of the oven for 5 minutes to melt the mozzarella.
10

Finally, you can take them out of the oven. You can decorate them with some spring onions and parsley or other vegetables.
Reviews (0)
Tips and tricks
You can use some chopped parsley in your crepe dough and have some green crepes.
Background & History
I always love experiencing different varieties of foods. You can use crepes to prepare all kinds of delicious dishes. For the filling, I used some mushrooms and chicken in my fridge because I knew their combination is always amazing. To avoid my rolls being dry, I used white sauce in them.
Nutrition Facts
(per serving)