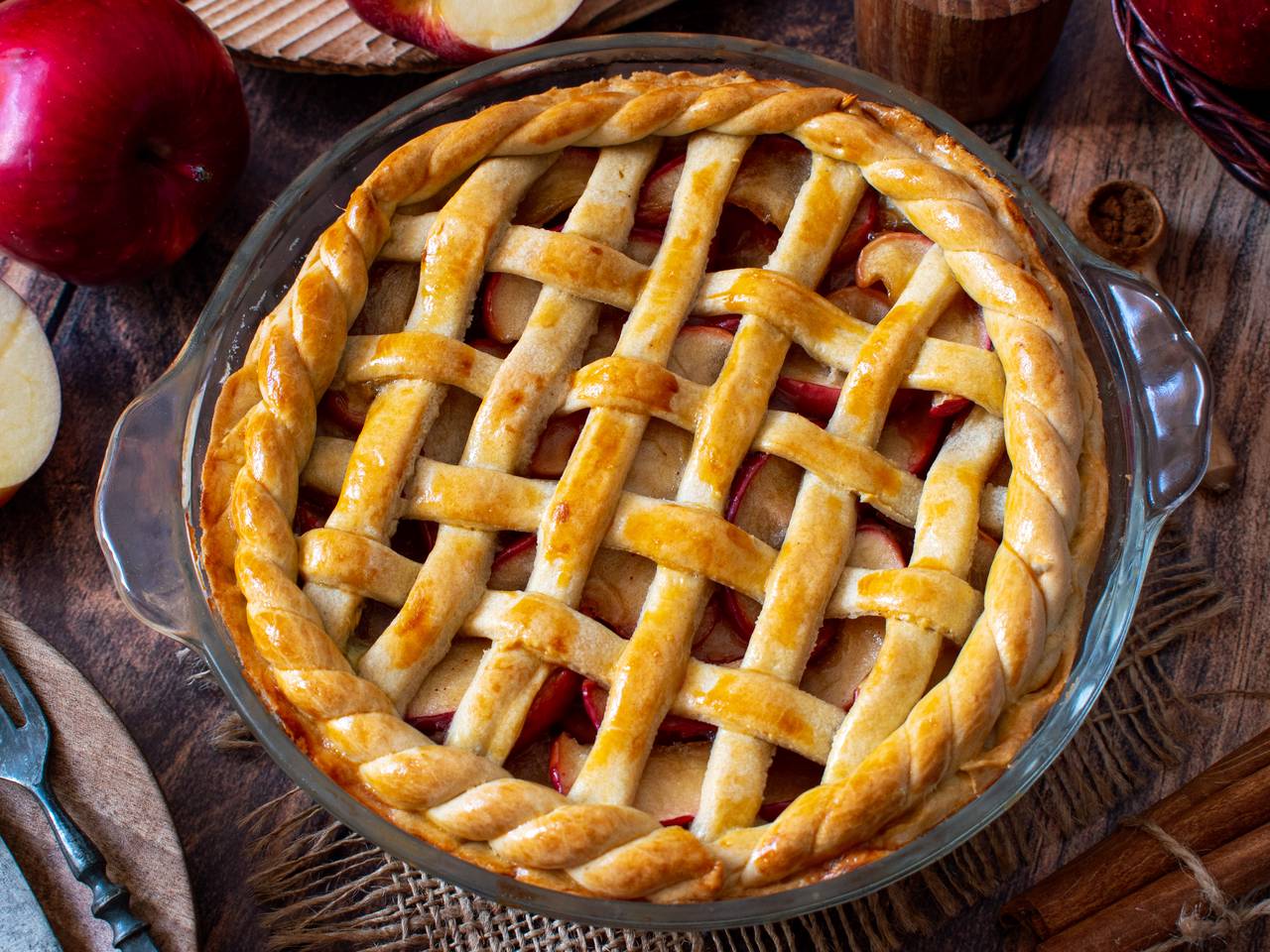 A piece of classic homemade apple pie is the best thing you can have for your brunch. To make this amazing pie, you only need to make the pie crust and fill it with cooked apples and cinnamon. The smell of the apples and cinnamon is going to fill your house.
Instructions:
1

Put the butter outside of the fridge for it to become room temperature. Preheat the oven at 175°C (350°F).
2

Mix flour with salt, butter, and 3 tablespoons of sugar in a big bowl.
3

When you mix the butter with flour, the mixture is going to become crumbly. Add 4 tablespoons of ice water slowly to the mixture to make your dough.
4

Knead the dough until it holds its shape. Let it rest in the fridge while we go and make our pie fillings.
5

Slice the apples into small pieces and mix them with brown sugar, sugar, nutmeg, cinnamon, and salt. Melt some butter in a pan on medium heat and cook the apples until they are soft. Then take them off the heat for them to cool to room temperature.
6

Roll out the dough with a rolling pin and make it about 3 inches bigger than your baking pan. Put the dough inside the pan and cut the extra with a knife. fill the pie crust with the apples.
7

Roll out the rest of the dough and cut it in stripes, put it on the pie, and stick it to the pie crust. cut the extra remaining dough carefully. Beat the yolk and brush the dough, then place the dough on top of the pie in a lattice formation.
8

Put the apple pie in the oven. It might take 45 minutes to one hour for your pie to be ready. Let it cool down for a while then sprinkle some cinnamon and sugar on it then serve.
Reviews (0)
Tips and tricks
The dough must rest in the fridge at least for one hour. Pies are not made quickly. You should be patient and give your dough a good rest if you want to make the perfect crust.
To make your pies smell better, you can mix the sugared powder with cardamom and cinnamon. Then sprinkle them on the apples.
Background & History
Among all the pies I know, I love apple pies the most because they have an amazing unique smell. People used to fill their pie crust with meat and vegetables, but soon pie crusts found their way to bakeries, and now they are also filled with different fruits such as pineapple and sour cherries.
Nutrition Facts
(per serving)