Boston Cream Pie Cupcakes Recipe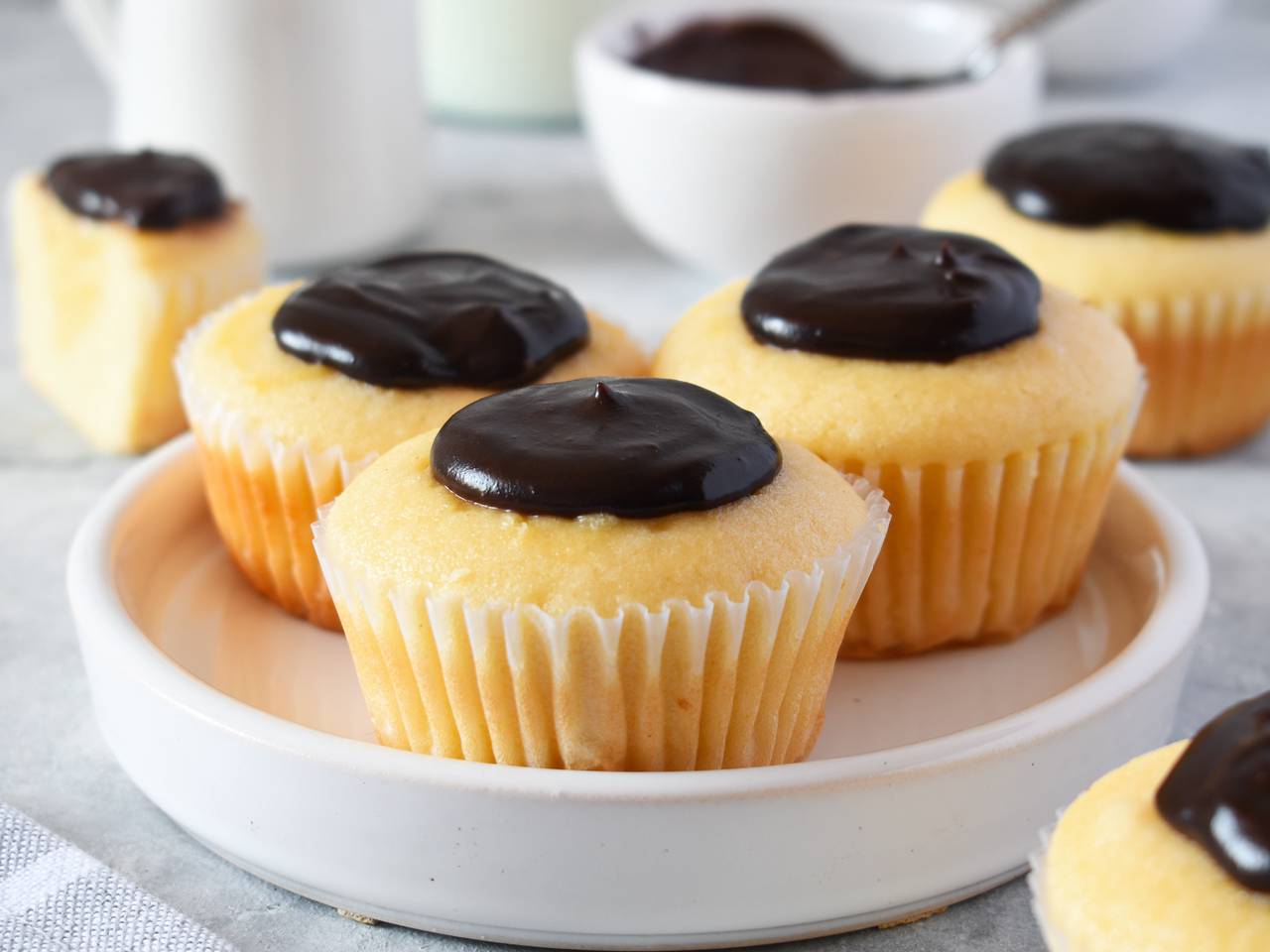 I love the flavor of the Patissiere cream, this flavor takes me to my childhood. What is better than a cake with a Patissiere cream in the middle of it! This Boston cake is having the combination of the best flavors altogether and definitely, you will enjoy making it while having fun.
Ingredients
1.25 Cup
White flour(cupcake)
3 medium
Egg white(cupcake)
6 Tablespoon
Softened butter(cupcake)
8 Tablespoon
Milk(cupcake)
100 Grams
Sour cream(cupcake)
2 Teaspoon
Vanilla(cupcake)
1 Teaspoon
Beaking powder(cupcake)
2 large
Yolk(Patisserie cream)
6 Tablespoon
Sugar(Patisserie cream)
1.5 Tablespoon
Corn starch(Patisserie cream)
1 Cup
Milk(Patisserie cream)
3 Tablespoon
Flour(Patisserie cream)
1 Tablespoon
Butter(Patisserie cream)
1 Tablespoon
Vanilla(Patisserie cream)
150 Grams
Heavy cream(ganache chocolate)
200 Grams
Bar chocolate(ganache chocolate)
3 Tablespoon
Butter(ganache chocolate)
1 Teaspoon
Vanilla(ganache chocolate)
Instructions:
1

Prepare egg whites and yolks, then measure all the other ingredients.
2

At first, softened butter which reached the environment temperature, whisk it with sugar and heavy cream for about 5-6 minutes.
3

Add egg white in two separate levels after all the ingredients are combined well, clean the ages of the bowl.
4

Sift flour, baking powder, and vanilla and add some of it to the ingredients. Add milk to this level. Then, add other dry ingredients and mix until no flour streaks remain. Pay attention to mix the ingredients with a spatula and starting it with one side of the bowl.
5

Put capsules in cupcakes' cases and fill 1\3 of the space with custard or patisserie and then put it in a pre-heated oven with 175 Fahrenheit degree.
6

Prepare ingredients for Patisserie cream.
7

First, pour yolks into a large bowl and add sugar. Combine it with a mixer until dissolves and gets formed.
8

Pour milk gently, and combine it well with a handheld mixer.
9

Sift flour and corn starch and add to the mixture until no flour streaks remain. Pour the egg mixture into the pan on medium heat and mixing it constantly. Stay still for a while to prevent the mixture from thickening too much!
10

Patisserie cream is ready and after chilling, you can use it. With a variety of different essences, you can have many flavors.
11

Prepare main ingredients for the ganache.
12

Pour butter, cream, and vanilla until butter melts and cream gets soggy. Mix them well until they boil and bubbles appear.
13

Break the chocolate bar and add to the mixture. Remove the saucepan from the heat and add chocolate immediately to the cream and stir it until it melts.
14

Cut the central part of the cake with a knife and fill it with cream.
15

In the end, pour ganache above it and decorate it.
Reviews (0)
Tips and tricks
It is recommended for having a better result, all the temperature of the ingredients should be under room temperature.
After making the cream, let it cool for a while. If you want to have a well-formed cream, let it stay in the refrigerator for about 1 to 2 hours.
Background & History
Boston cream pie is kind of a cake that the cream of the middle of it, is known as Patissiere or custard, which can be served in different shapes. One of them is a cupcake for one, which I Included in this recipe.
Nutrition Facts
(per serving)