Garlic Tomato Shrimp Pasta Recipe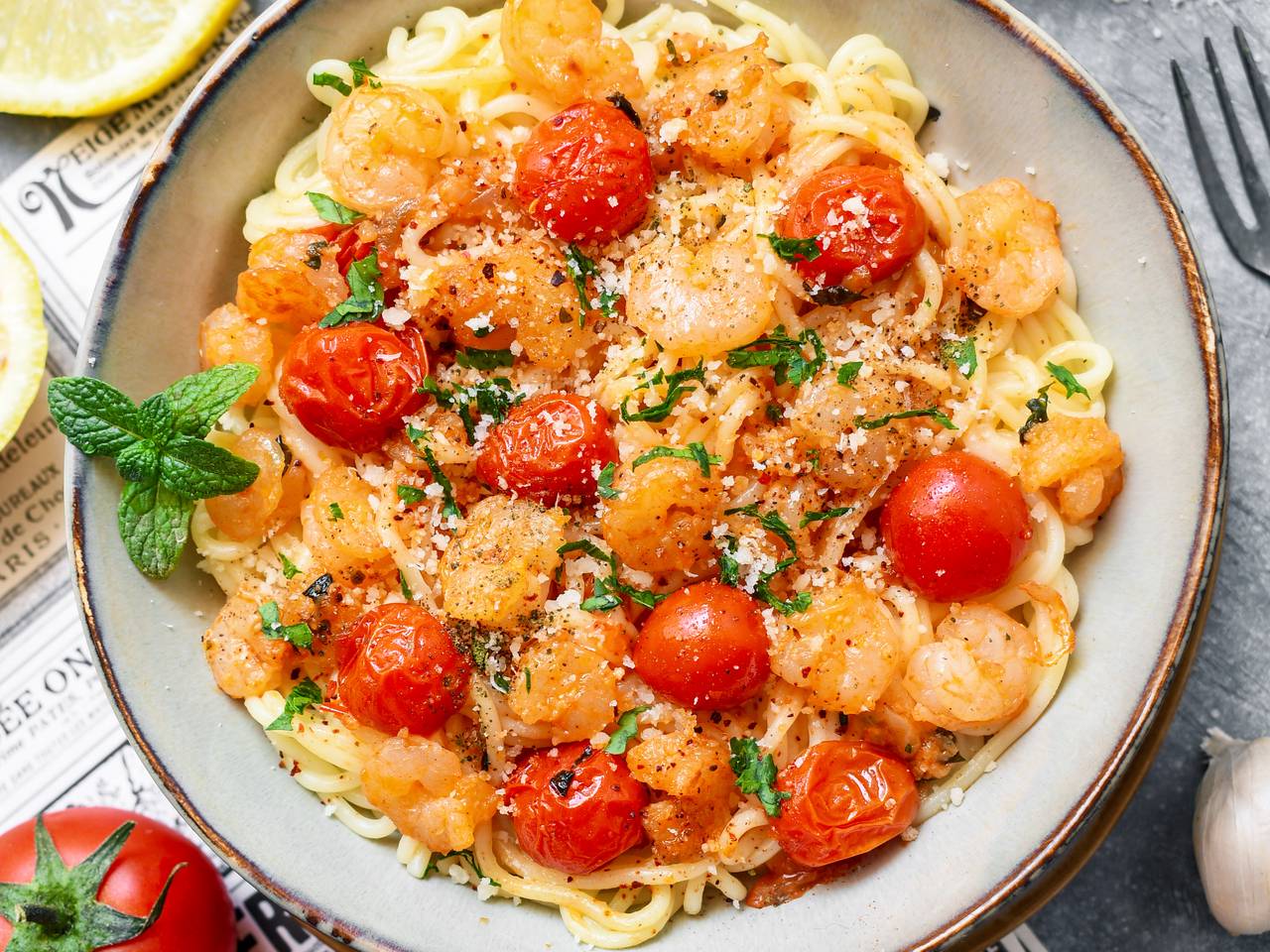 Spaghetti is one of those meals that you can combine with all kinds of ingredients. Everybody loves it because it's made quickly and also tastes delicious. If you want to make spaghetti, all you have to do is to pay a visit to your fridge and makeup something delicious from the things you already have there. Today I teach you how to make delicious and nutritious spaghetti with some shrimps.
Ingredients
2 tablespoons
tomato paste
Instructions:
1

Fill 3/4 of a pot with water and add one tablespoon of salt to it. Put the pot on heat until the water starts to boil. Add the spaghetti to your water and let them cook for 10 minutes to become soft.
2

Fry the grated onions in a greased pan until they become golden. Add the grated garlic to the onions and fry them until their smell fills the air. Now add the chopped parsleys to your pan.
3

Add the tomato paste to your pan and fry them until the mixture becomes bright red. Cut the tomatoes in half and add them to the onions and let them cook until they are soft.
4

Clean and wash the shrimps and put them in the pan. It is better to use smaller shrimps but if your shrimps are not small enough you can cut them in half and then let them cook on low heat. Now you can add thyme, salt, and pepper.
5

Drain the spaghetti when they become soft enough. Put them in a dish and mix them with half of our shrimps, you can put the rest on top of your spaghetti.
6

Our spaghetti with shrimps and tomatoes is ready now. You can decorate it with some fresh chopped parsley and parmesan cheese.
Reviews (1)
Yvonne
This came out amazing, would definitely make it again.
Tips and tricks
If you want to have your spaghetti immediately after cooking, don't add any oil to the pot. The oil prevents the spaghetti to absorb your sauce.
You need to stir the spaghetti when you put them in the boiling water otherwise you end up with clumpy spaghetti.
Use a big pot for your boiling water to prevent your spaghetti become sticky and clumpy.
Background & History
We've all loved spaghetti from a young age but seafood isn't for everyone. Some of us don't like shrimps but they are so nutritious and you can't just delete them from your diet. The best way to have shrimps is to mix them with other foods such as spaghetti. Using shrimps in your spaghetti is not only nutritious but also provides a new amazing sauce for your meal.
Nutrition Facts
(per serving)