Simple Garlic and Basil Pesto Recipe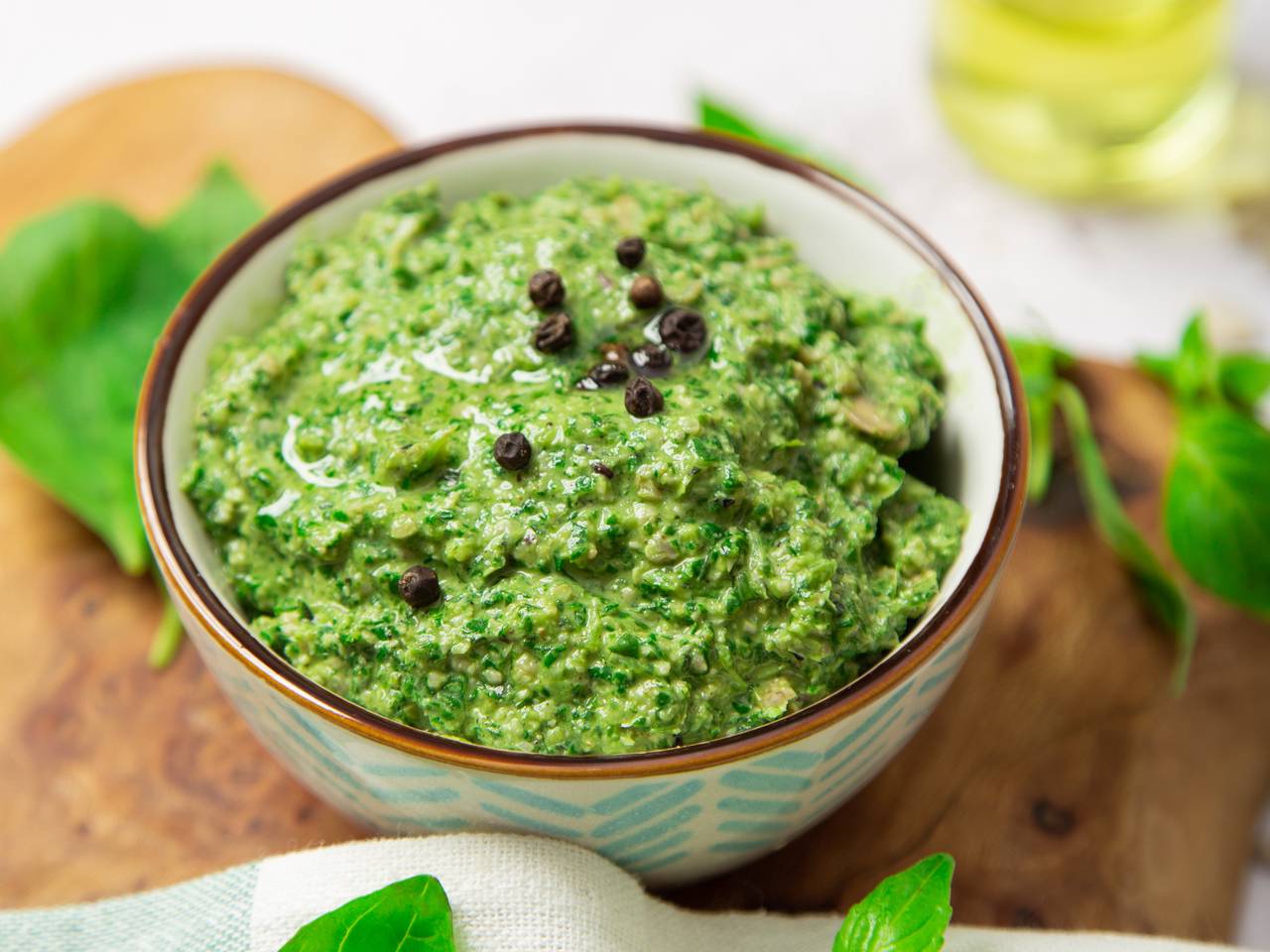 If you grow basils in your yard like me and would love the opportunity to use them in different meals but you can't use all of them at once, pesto sauce might be the best choice for you. If you love the smell of basils you should try this sauce.
Ingredients
1 tablespoon
fresh lemon juice
0.5 teaspoon
black pepper
Instructions:
1

Basils are the most important ingredient in this recipe, so prepare fresh basils and wash them properly to use in your pesto sauce.
2

First, add basil leaves, sunflower kernels, parmesan cheese, salt, and pepper into your food processor and mix them.
3

Now add the grated garlic to the mixture.
4

At last, add the olive oil to your sauce.
5

Turn on the food processor and mix all the ingredients well until they are combined. Your sauce should have a soft texture and be light green.
6

If you want to have this sauce with your pasta (it's my favorite meal!), you need to cook the pasta in water until it's soft, drain it and then mix it with the pesto sauce.
Reviews (2)
Sally
Super easy and ended up the best pesto I've ever had. We used fresh basil from our garden and bought everything else.
Luckyldy
I'm going to try it 🙂
Tips and tricks
If you want to keep this sauce in your freezer for a long time, you should omit the cheese from the recipe. You can add them to your sauce whenever you want to use it because frozen cheese doesn't really taste good in a meal.
Pesto sauce changes in color when it's exposed to the air and becomes darker. If you want to keep it you should put it in a zipped plastic bag with no air it. This way you can keep it green for a longer amount of time.
Background & History
Pesto is my favorite vegan sauce but it might not be everyone's cup of tea because it has a strong taste and smell of garlic and basils. You can use this sauce in different meals such as pasta, lasagna, panini, and other delicious foods. It could also be an excellent choice to have with your grilled chicken.
Nutrition Facts
(per serving)