The Perfect Apple Pie Recipe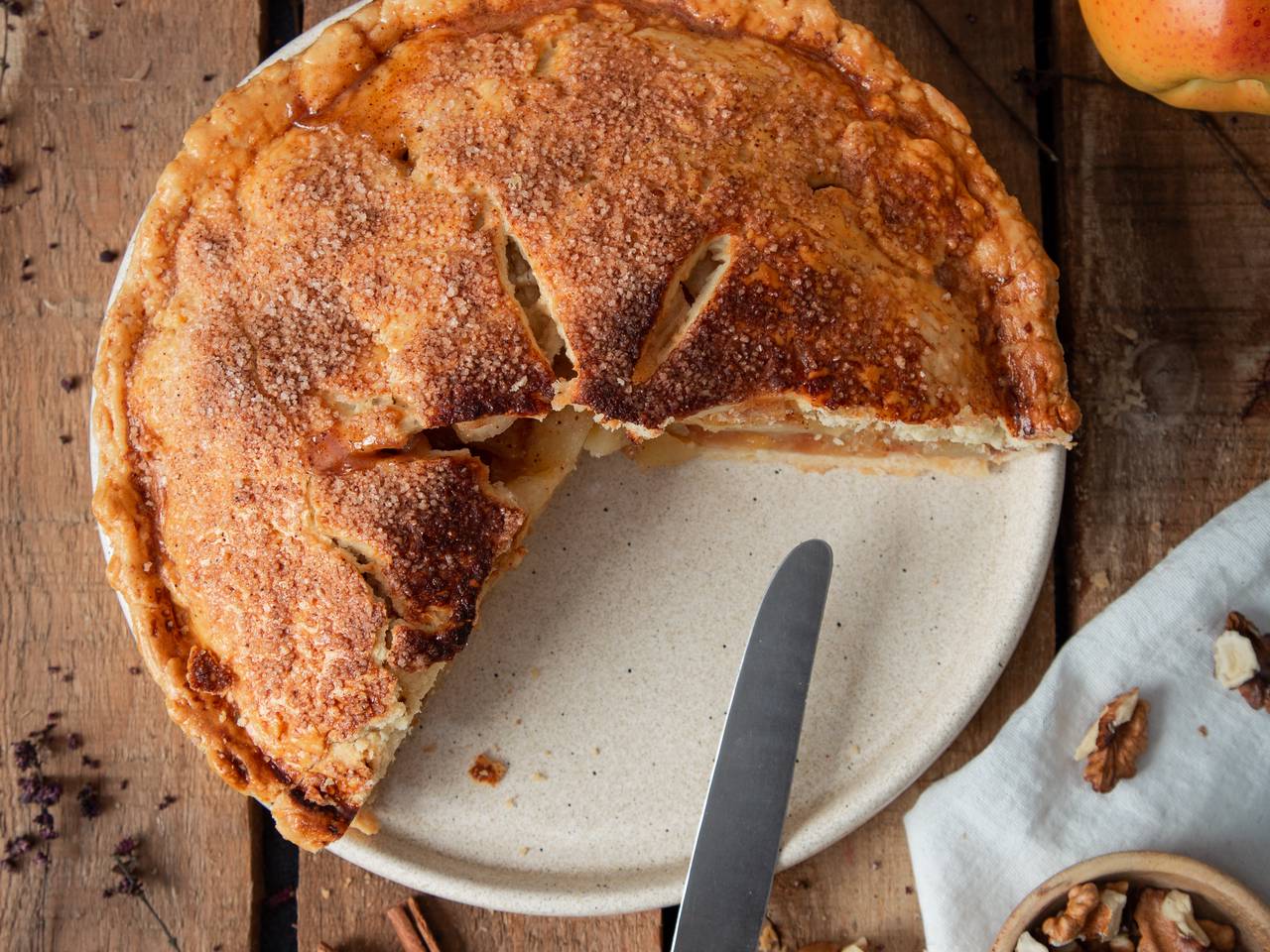 This is the perfect apple pie recipe with a butter crust and an amazing, soft, and good-smelling apple and cinnamon filling that can change your home to a magical place when its smell fills the air. It smells so good that you'll want to eat it hot. The soft and juicy filling alongside the crispy crust makes eating this pie an amazing adventure.
Instructions:
1

Prepare your ingredients and place them near you. Your butter should be cold.
2

We need to make our crust dough first because it should rest in the fridge at least for one hour. Mix flour with salt and sugar in a blender for a few seconds, then add the cold chopped butter to the mixture and mix them for a few seconds. At this point, our dough is really crumbly and can easily fall apart while it's not too sticky. Add 6 to 7 tablespoons of cold water to your dough and mix again.
3

After adding the water, squeeze the dough in your fingers, it should be quite sticky now. Separate it into two pieces. Wrap each part in plastic and let them rest for at least one hour in the fridge.
4

Now we are going to make our pie filling. Peel the apples and chop them into small pieces.
5

Put the apples in a bowl and sprinkle one cup of sugar, one tablespoon of flour, one tablespoon of cornflour, half a teaspoon of nutmeg, one tablespoon of lemon juice, and a pinch of salt. Mix then let them rest inside the bowl for 30 minutes.
6

Sprinkle some flour onto your workspace, take one of your batches and put it on the surface of your workspace, and slowly roll it out with a rolling pin. Your dough should be 3cm bigger than your pie tin.
7

Take the dough slowly with your rolling pin and carefully place it on your pie tin, then slowly push the dough inside the tin. (try to avoid tearing your dough).
8

Pour the apple and cinnamon mixture inside your pie.
9

Roll out the second batch of your dough and cover your pie with it. Press the edges so they stick together and cut the excess dough. Use a soft brush to cover your pie with one beaten egg.
10

Mix some sugar and cinnamon and gently sprinkle them on your pie.
11

Use a sharp knife to make some cuts on your pie. Put your pie in the oven and bake it at 180°C (360°F) for about one hour.
12

When your house is filled with the smell of apples and cinnamon, it probably means that your pie is ready and you can take it out of the oven.
13

Let your pie cool down well because it is quite hot and the apples can keep the warm temperature inside them for a long time.
14

You can serve your pie with a warm drink or one scoop of ice cream, then enjoy.
Reviews (0)
Tips and tricks
Don't knead the dough before you wrap it in plastic and put it in the fridge. All you need to do is just press the crumbly dough together.
If your dough stays in the fridge for more than one hour, it will become too hard to knead. So you have to let it rest at room temperature for at least 15 minutes, then start to knead it.
The topping dough can be decorated in different ways. You can make a lattice or cut it as I did.
Background & History
This apple pie is perfect for the chilly days of fall (autumn) and winter, and you can enjoy it with one cup of herbal tea while you're reading your favorite book.
Nutrition Facts
(per serving)