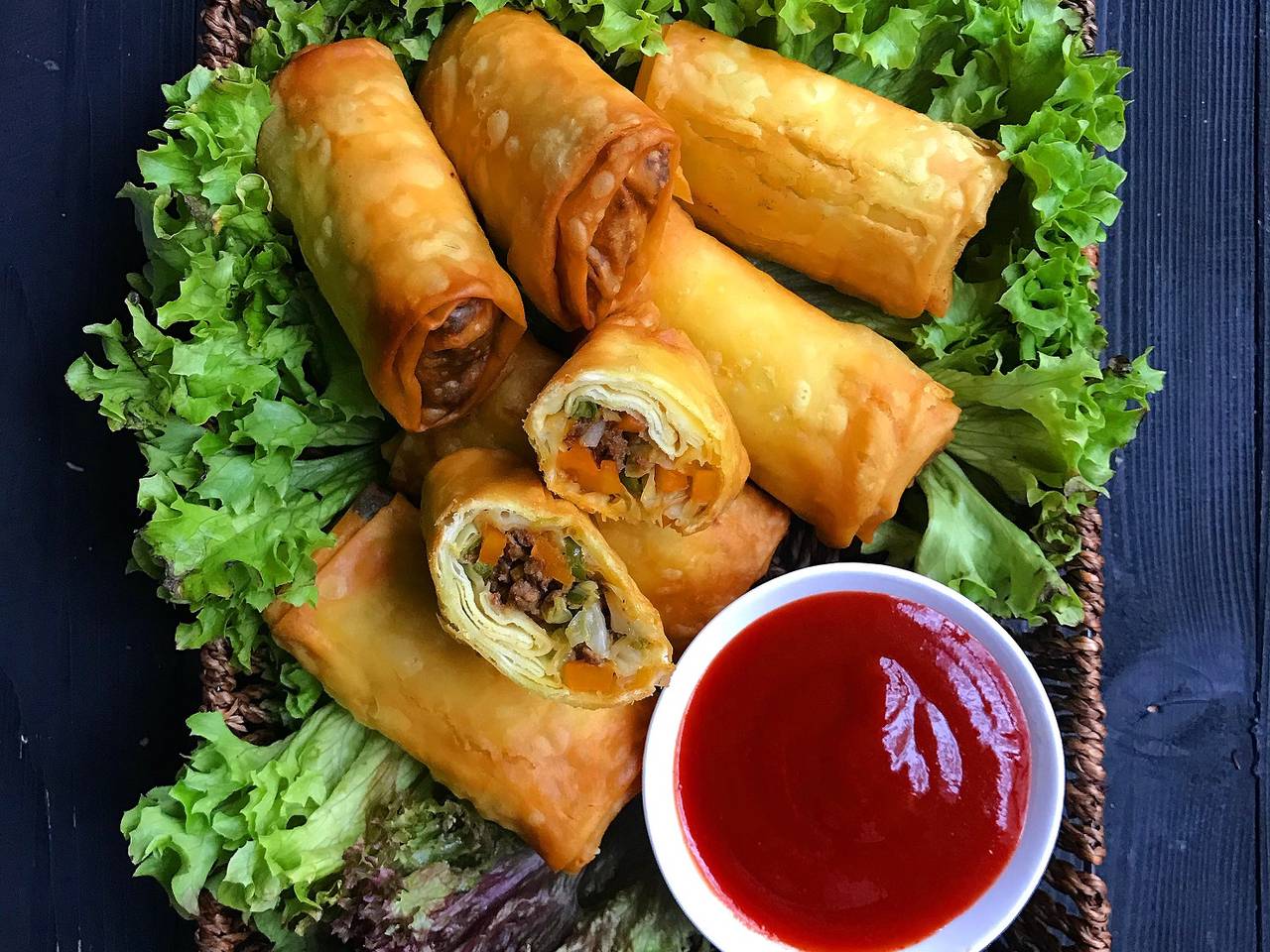 In my opinion egg rolls are one the best appetizers and this crispy beef egg rolls are perfect. Each one of them is packed with ground beef, crunchy carrots and cabbage which give it an amazing texture and flavor. Try this delicious beef egg rolls once and you will miss it's taste every time after that.
Ingredients
8 wrapper
egg roll wrappers
3 small (5-1/2" long)
carrots
10 gram
all-purpose flour
Instructions:
1

Pour in 1 tablespoon of olive oil in a skillet over medium heat then add the chopped onion and saute for about 2 to 3 minutes until the onions are tender. Add the minced garlic and saute for 2 minutes more.
2

Add the ground beef to the cooked onion mixture and cook stirring until the meat is browned all over, then add the tomato paste and season the mixture with salt and pepper.
3

Saute the mixture for about 2 to 3 minutes until combine.
4

Add the shredded cabbage, chopped carrots and chopped green pepper in another skillet, pour in 1 tablespoon olive oil and saute the mixture over medium heat for about 5 minutes.
5

Season the vegetable mixture with salt and pepper.
6

Add the beef mixture into the vegetable mixture and saute them for 5 more minutes.
7

The egg rolls filling is ready.
8

Put an egg roll wrapper on your working surface then place about 1/4 cup of the beef and vegetable mixture on the top of the egg roll wrapper.
9

Fold the top, right and left of the egg roll wrapper just like the picture below.
10

Stir the water with the flour in a bowl to make a paste.
11

Start to roll the wrapper from the top of it then dab a little of the flour paste on the bottom of the wrapper and continue rolling. This flour paste helps to seal the egg roll.
12

Heat about 2.5 inch of vegetable oil in a frying pan over high heat. When the oil is hot place the egg rolls into the hot oil.
13

Fry the egg rolls about 3 to 4 minutes and turn occasionally until they are golden brown on all sides.
14

Now your delicious beef egg rolls are ready to enjoy.
Reviews (2)
Maria
I like to rap them these way it's much easier 😊
Maria
I like to rap them these way it's much easier 😊
Nutrition Facts
(per serving)