Cinnamon Rolls with Cream Cheese Icing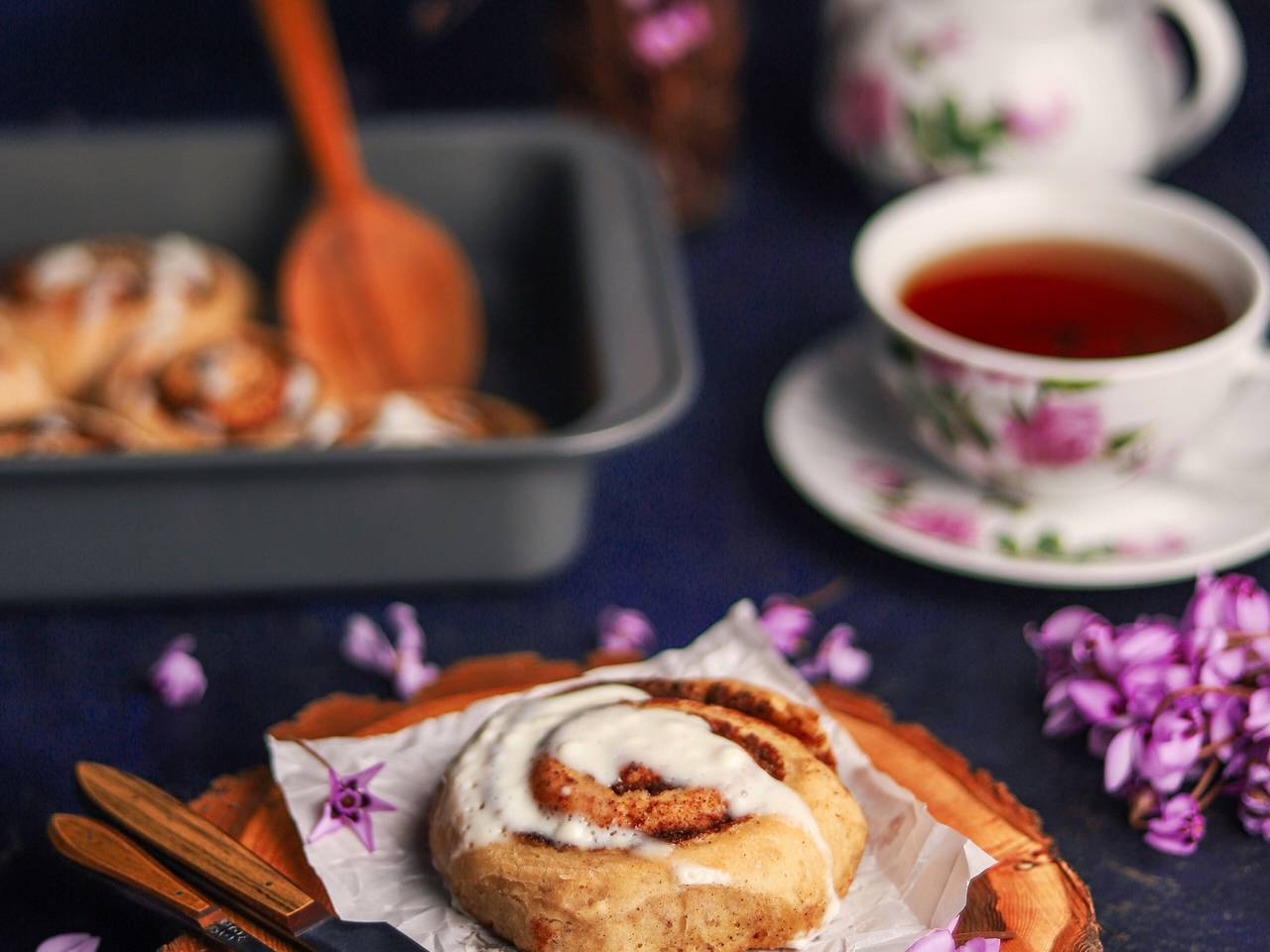 ا love the taste and smell of cinnamon so cinnamon rolls with their fluffy texture and semisweet taste with cream cheese icing and some cinnamon tea are the best afternoon meal for me. When the smell of cinnamon fills your house it can turn it into a magical place. If you are a cinnamon fan I defiantly recommend you try this.
Ingredients
330 grams
all-purpose flour
4 tablespoons
unsalted butter
3 tablespoons
white sugar
0.5 teaspon
ground cinnamon
1 large
room temperature eggs
1 tablespoon
cinnamon (for the filling)
4 table spoons
sugar (for the filling)
4 tablespoons
butter (for the filling)
2 tablespoons
cream cheese (for the icing)
5 tablespoons
milk (for the icing)
3 tablespoons
sugar powder (for the icing)
0.5 tea spoons
vanilla (for the icing)
Instructions:
1

Prepare the ingredients of cinnamon rolls, take butter and milk out of the fridge to become room temperature.
2

Mix flour, salt, sugar, instant yeast, and cinnamon.
3

Mix the room temperature butter and milk in a bowl. You can make the mixture lukewarm by putting it in the microwave for 30 seconds or put it on the heat to reach 110FT. The mixture should be lukewarm as when you touch it, you feel warm but it wouldn't burn your hands.
4

Add one egg and the milk mixture to your dry ingredients
5

Mix the ingredients with a wooden spoon to make your sticky dough. Now sprinkle some flour on a surface and knead the dough for about 5 minutes. Add more flour when you see the dough is sticking to your hand. Grease a clean dish and put your dough inside it and cover it with cellophane or some cloth.
6

Put the dough in a dark and warm place to rise and become double in size.
7

Roll out the dough on an even surface.
8

Cover the dough with soft butter.
9

Sprinkle sugar and cinnamon on the butter.
10

The role of the dough from its width.
11

Cut the roles with a string or a knife to 2 centimeters. Put the roles into a greased dish, cover them with cellophane or a piece of cloth and let them rest for 30 to 45 minutes.
12

The roles will become double in size. Put them in the warmed oven at 180C for 25 to 30 minutes until they are completely cooked.
13

Whisk cream cheese, sugar powder, vanilla, and 5 tablespoons of milk until they are combined perfectly. Pour the icing on the rolls.
14

Make some cinnamon tea and enjoy it with your cinnamon rolls.
Reviews (0)
Tips and tricks
You can use brown sugar instead of white sugar for the filling.
Background & History
Cinnamon rolls were first made in Sweden and they are really famous there. There are even a cinnamon rolls day in Sweden on the fourth of October, so they celebrate the start of autumn with these sweet rolls.
Nutrition Facts
(per serving)