Easy Oven Baked Pesto Chicken Recipe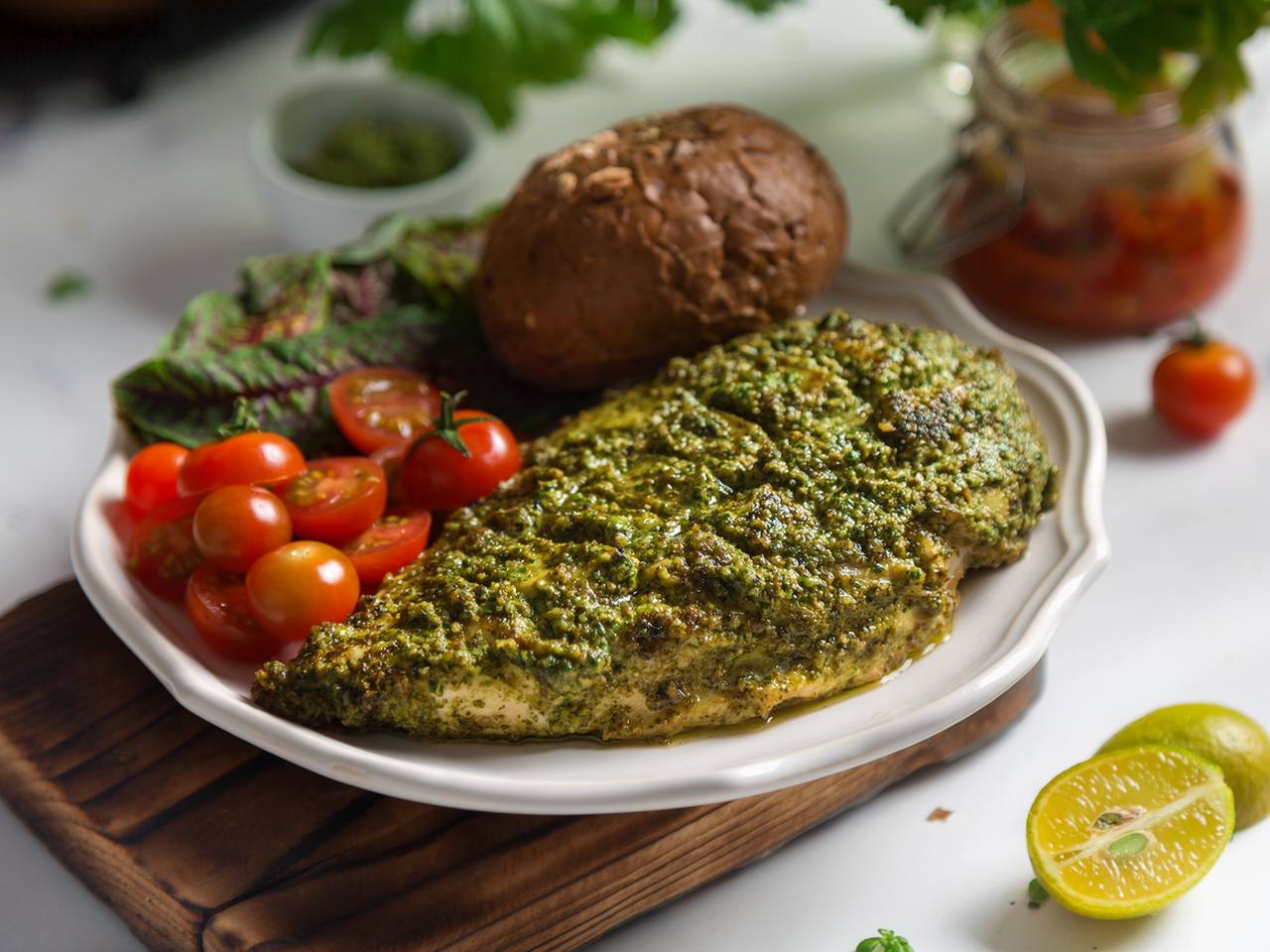 If you love pesto like me you are probably interested in every meal made with this wonderful sauce. The amazing basil smell combined with parmesan cheese and garlic could be the smell of your dinner.
Ingredients
0.5 teaspoon
black pepper
Instructions:
1

You can either use a whole chicken breast and keep the cleaned bone or remove the bone.
2

Mix basil, walnuts, parmesan, garlic, olive oil, salt, and pepper in the food processer for two minutes.
3

Mix everything until they are combined well and become a beautiful green color.
4

I cleaned the chicken bone and cut the top of it like the picture so that the sauce could penetrate inside the chicken and marinate it.
5

Cover all of your chicken with pesto sauce and keep them in the fridge in a lidded dish for half an hour so the chicken absorbs the sauce well.
6

Grease a pan with 3 tablespoons of oil and fry the chickens on high heat. It takes 3 to 4 minutes for each side to be cooked depending on your heat. Turn the chickens when one side is fried and while the other side is cooking pour hot oil on them with a spoon.
7

Now take the chickens out of the pan and put them in a dish and cover them with foil and cook inside the oven for 20 minutes at 200C.
8

You can add more sauce to your chickens in the last minutes to make them look better. Enjoy your pesto chicken.
Reviews (1)
KATHY
Great idea! Kids complained, and scoffed at it, but ended up loving it! It's a keeper!
Tips and tricks
You can only cover your chickens in foil and cook them in the oven but frying them in oil makes them taste more delicious.
You can use other nuts instead of walnuts such as pine nuts that are in the traditional pesto sauce recipe.
Background & History
I started loving pesto when I tried pesto pasta. After that, I used pesto in my sandwiches and this time I made pesto chicken. You should defiantly try this amazing combination of chicken and pesto.
Nutrition Facts
(per serving)