Oven Roasted Vegetables and Potatoes Recipe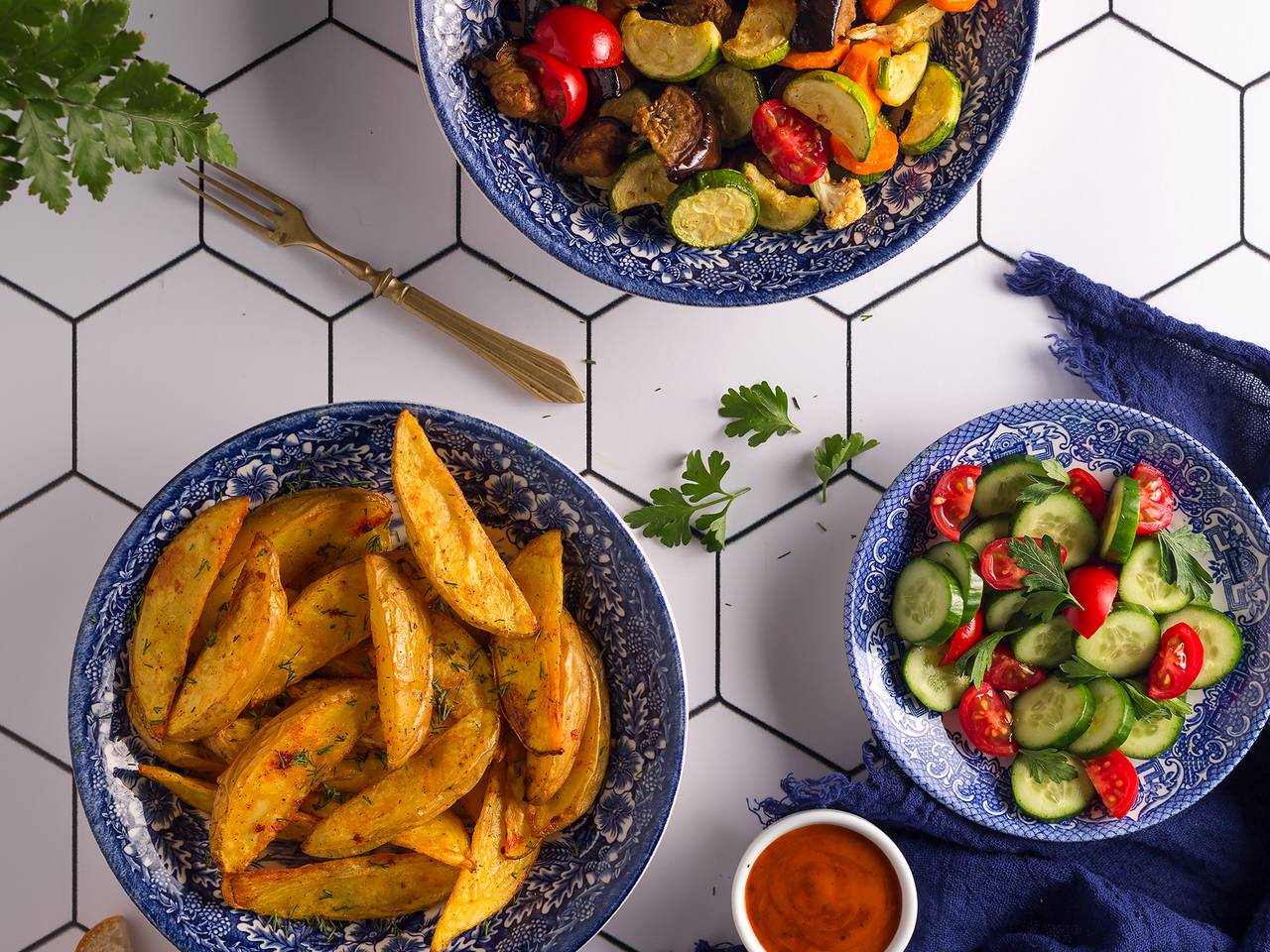 One of the best and healthiest ways to cook vegetables is to grill them. You can do this in two ways, you can make them on an air fryer or in the oven. You can marinate the potatoes and vegetables and grill them inside the oven.
Ingredients
0.25 Teaspoon
Black pepper
0.25 Teaspoon
Aleppo pepper
0.5 Cup
Chopped cauliflower
Instructions:
1

First, turn on the oven at 200C.
2

Wash the potatoes and slice them the same as in the picture. The slices shouldn't be too thin.
3

Cut the vegetables into 3 to 4 centimeters pieces.
4

Mix your potatoes with olive oil, salt, and pepper well until the potatoes are marinated well.
5

Put the potatoes in the oven tray as in the picture. Don't put them on top of each other.
6

Place the vegetables in the oven tray and spray the rest of the olive oil and sprinkle some salt on them.
7

Cook the potatoes in the oven for 40 minutes inside the preheated oven. Take the potatoes out of the oven after 25 minutes, turn them and let them cook for 20 more minutes.
8

Take the potatoes out of the oven. You can sprinkle some fresh parsley on them. enjoy!
9

Turn the vegetables after 10 minutes. Cook them for 15 to 20 minutes, then take them off the oven and enjoy.
Reviews (0)
Tips and tricks
The exact time for cooking depends on the size of the vegetables and potatoes pieces.
To grill your vegetables and potatoes perfectly, you need to cook them at a high temperature, about 200C. The oven must be heated before grilling.
I recommend you not to use a lot of spices. Salt and pepper are the best spices for grilled vegetables and potatoes.
Don't use parchment paper on our oven tray.
Make sure the vegetables or potatoes are not on top of each other. This way they are grilled better and faster.
Background & History
I am pretty sure if you make these grilled potatoes You will be no longer interested in eating the high-calorie fried potatoes.
Nutrition Facts
(per serving)