Easy Eggless Crepes Recipe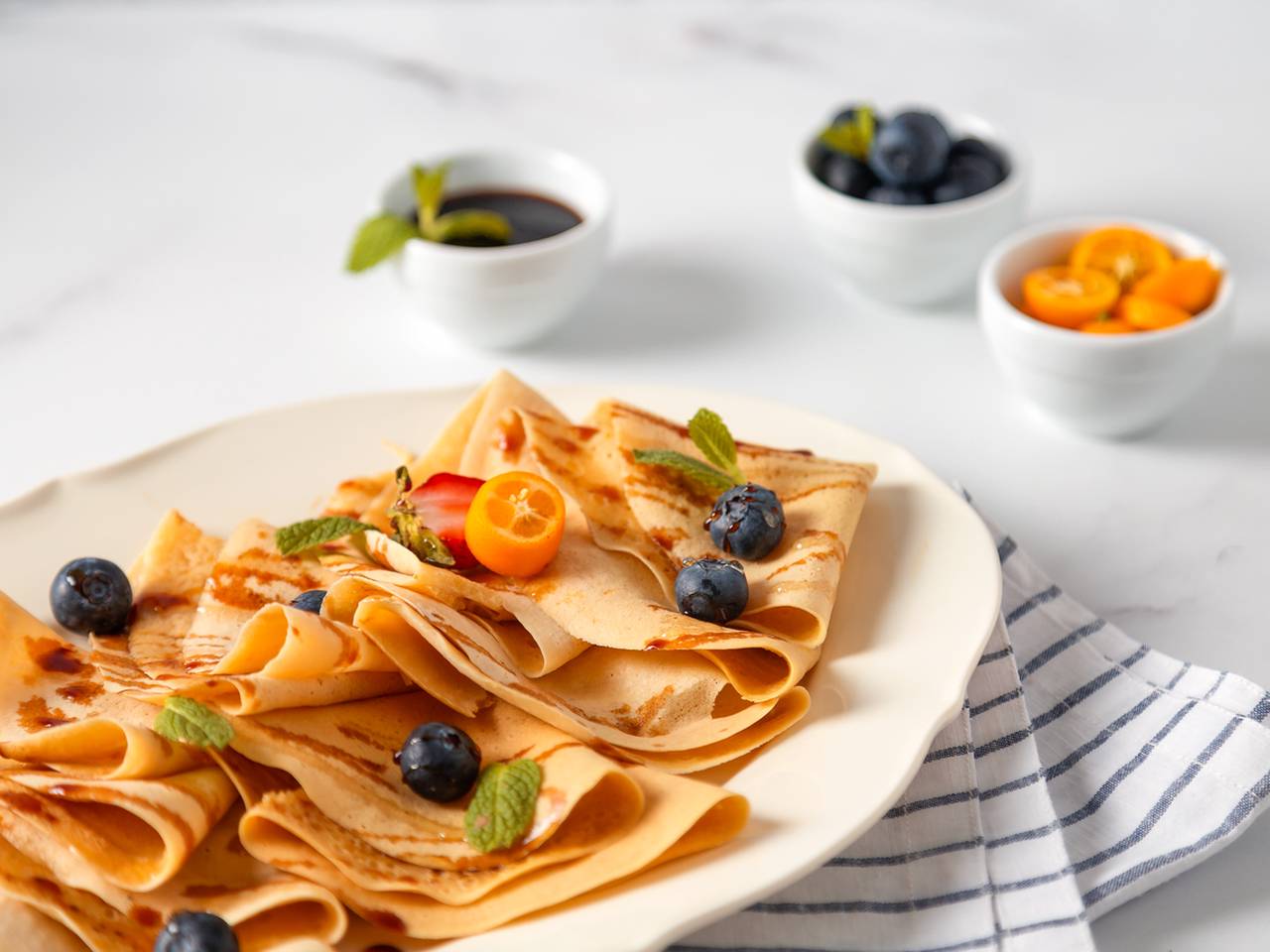 Breakfast is the most exciting meal of the day. This Easy Eggless Crepes recipe is a keeper…Super easy to make and completely delicious! You can serve it with every fruit you love. It's fantastic.
Ingredients
1.5 Tablespoon
Brown sugar or white sugar
1 Teaspoon
Orange or lemon wedge
0.5 Teaspoon
Extracted vanilla
0.333 Teaspoon
Baking soda
200 Grams
Soy or almond milk
Instructions:
1

Prepare all ingredients to get started.
2

Use an electric whisk to thoroughly combine the mixture or you can use just a regular spoon to combine them. Mix them well until they combined well. No more or less!
3

It should reach like this kind of thickening. The only golden point that making a crepe has, after combining the ingredients, let the batter sit for about 5 to 10 minutes to absorb ingredients well. Don't rush!
4

Pour one ladle of batter onto the pan. Tilt the pan with a circular motion so that the batter completely covers the bottom of the skillet or you can use your same ladle to help cover the pan.
5

This is the top layer of the crepe. If you prefer crispy crepes, let them be just at an environmental temperature before the other crepes get ready. And if you like it wet and chewy, put them inside a cellophane bag until other crepes get ready.
6

Finally, put all the crepes above each other and decorate them.
7

All the crepes can be served with every berries or fruit you'd love!
8

Fill with jam, honey, Butter anything sweet that you enjoy from your pantry.
Reviews (1)
Mark
My favorite crepe recipe. Very basic but exactly what I was looking for.
Tips and tricks
If your pan is a non-stick one, it's not necessary to use oil for covering the surface. After making each of the crepes, make the surface clean to help your crepes look alike.
There is no difference between white or brown sugar. Or even lemon wedge or orange wedge.
Almon milk or soy milk each of them works. And if your not vegan you can use cow milk.
Background & History
Crepes have different types, it depends on exactly when do you want to eat which type of crepes. If they are eaten as a main dish I would not make them sweet and instead, use everything I like in the inner layer. Mushrooms, chicken, spinach even snipped chives or other herbs.
Nutrition Facts
(per serving)