Everybody loves and knows how to make popcorn! But cooking popcorn that tastes like what we buy at the movie theater at home is what I want to talk about here.
I will share with you an easy recipe (tested method) that helps you to make funny popcorn moments with your family and friends.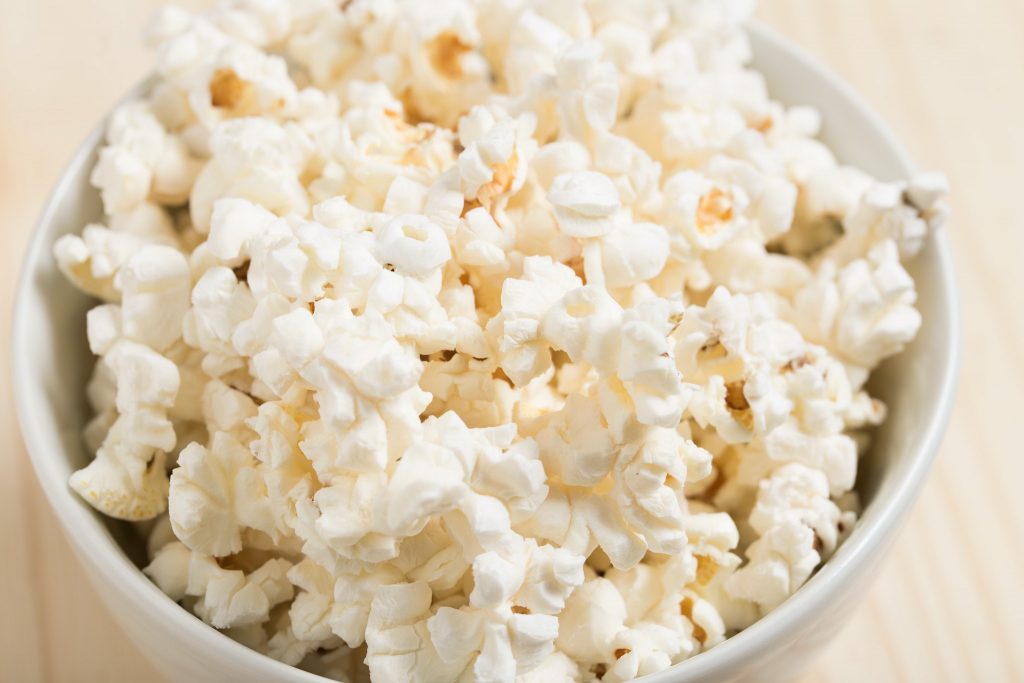 How to make perfect popcorn
Ingredients:
1/3 cup of popcorn kernels

2 or 3 tablespoons extra-virgin olive oil or coconut oil

Salt for flavor
Steps:
Add oil and 2 or 3 popcorn kernels to a thick-bottomed saucepan on medium heat and cover with the lid.
Once the kernels pop, remove from the heat and add the rest of the popcorn. Put the lid and wait for 40 seconds.
Put the pot back to heat and gently shake back and forth. Cook until the popping process going too slow. Then remove from the heat and dump the popcorn immediately into a serving bowl.
Now you can add salt or other seasonings.
How to make movie-style popcorn with butter?
The truth is that normal butter doesn't work for pop popcorn, it just burns at high temperatures and puts you in an awkward position.
The secret of making this kind of popcorn is the oil, you have two options to make movie-style popcorn at the home:
The simple and effective one is using Coconut oil that does the trick for you.
The second option is to use clarified butter that makes your popcorn clean, rich, buttery flavor but is harder to find.
Easy popcorn seasoning
َUsually, the seasoning process on popcorns happens after removing it from the heat but remember you should season the popcorn while it is still hot.
Some ideas to flavor your popcorn:
Adding salt is simple but makes popcorn fantastic and I recommend it in any type of popcorn you make even in sweet popcorn.
Melted butter, an inseparable part of popcorn, especially if you prefer to make it a richer taste.
Cinnamon Honey, season them with 2 tablespoons melted butter with 1 tablespoon honey, some ground cinnamon.
If you like spicy snacks, season them with 2 tablespoons melted butter, 1/2 teaspoon sweet paprika, 1/2 teaspoon garlic powder, and 1/4 teaspoon cayenne pepper.
How to make sweet flavored one?
If you are a fan of sweets and want to make sweet popcorn first melt 1/2 cup butter. Add white or brown sugar and boil for about 2 minutes, and finally, slowly drizzle it over the popcorn.
Which oil is better?
The oil that can handle higher temperatures and has a higher smoke point is better for pop popcorns.
I personally prefer to use extra-virgin olive oil on medium heat and it is the healthiest option you have.
Another option is coconut oil that many movie theaters use this oil to pop the popcorns.
And finally, the king of oils for popcorn is clarified butter that makes far better results.
Best pot for evenly pop
The best option in my experience that can be found in any kitchen is a big heavy-bottomed saucepan.
The bigger size pot prevents popcorns from overflow and It doesn't run you into trouble.
A heavy-bottomed pot can distribute heat evenly, and help you have the heat on all kernels equally that prevents popcorn from burning.
Popcorn kernels quality matters
First of all look for kernels that are as fresh as possible. Old Kernels dramatically decrease the quality of your result popcorn.
Additionally, consider trying to find hull-less varieties that can be easier on the teeth.
Did you make this recipe?
Please let me know how it turned out for you! Leave a comment below and share a picture on Instagram with the hashtag #yummology.